Going to the FCF (Feline Conservation Federation) convention brought to light a lot of conservation issues. I had the EXTREME pleasure of meeting and speaking to world-renowned field expert and author of  "Small Wildcats" Jim Sanderson PhD. We had an at length conversation, and although we had passions in certain areas, our main concerns and passions were in the wild cat conservation area. 
     You have probably not heard of an Andean Cat and before the convention, neither had I. This cat is in real trouble. It has NO FEAR of humans, and a few favorite means of capturing and killing them (when captured they are almost ALWAYS killed – I will discuss this in a moment) is to either walk right up to them and drop a rock on them or to throw a coat, blanket et al, over them and kill them. Now why do they do this?
    Here is where a lot of cultural belief comes into play. Indigenous people believe the cat to possess supernatural powers and these powers can be harnessed by killing it, decorating it with ribbons and such, and displaying in their homes. These idols are not ever sold but passed down through the family. How do you change an entire populations spiritual beliefs? 
     Next problem for the cat is that the indigenous people eat the mountain Viscachas, which is a rodent type animal and also a main prey animal for the Andean cat.
     Next problem is large-scale mining activity requires scarce water sources and last but not least –
      Global warming is causing rapid loss of glaciers whose waters maintain the only feeding areas of mountain viscachas. 
This gorgeous, friendly, mysterious cat will be gone before the entire world knows of its existence! So what can we do? 
Well, first off is educate yourself. I invite you to read Jim Sanderson's web page and review his projects. http://www.smallcats.org/AndeanCatMonitoring1.html
Next – Jim needs your old cameras if you are planning on getting a new one. It is tax deductible and you will have the satisfaction of knowing that you indeed participated in the study and possible recovery of this mysterious cat! He likes the Spypoint Whiteflash best, and Bushnel and DLC Covert are also good!! 
   "The Small Wild Cat Conservation Foundation is a federal tax exempt not-for-profit
charity (ID 26-1368021) founded in 1996 to address the conservation needs of small
wild cats worldwide."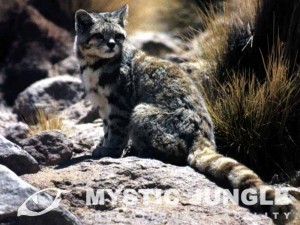 Remember, we must preserve the earth in order for our children to inherit it!! Give them something to treasure forever……. 
Authors note – The pictures featured, even though they are stamped with mystic jungle are not the property of Mystic Jungle but used as an educational tool.