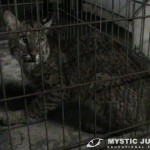 Here at the jungle we not only concentrate on conservation across the globe but in our backyard. 
We are licensed by the state of Florida to rehabilitate and release native wildlife, as well as one of the few facilities that can post pictures of animals in rehab, as we have a special license to do so. 
We received a call regarding a bobcat that had been trapped in a live trap. The farm owner had trapped this bobcat after he had wiped out the man's entire duck flock and was working on his chickens. He could have done what a lot of folks have done, and killed him. But instead, he gave us a call and asked for him to be re located. 
We have 250 acres with a lot of it in dense wooded areas. We allow NO HUNTING. The place is alive with pheasants, quail, dove, turkeys, deer, you name it… and this is where we chose to release this poor guy. 
Picked up on Monday, November 18th, we held him over night so I could document his intake, and assess him to be assured there were no obvious signs of injury that would jeopardize his release. He passed this all with flying colors, so he was set for release on Tuesday November 19th. 
Enjoy the video of his release