Mystic Jungle Educational Facility, Inc. is an Internal Revenue Service-designated 501(c)(3) charitable organization. Here we focus on conservation. preservation and the education of the general public on all species of exotic animals, but our main focus is the Asian Leopard that is being eradicated at an alarming rate in India due to poaching and human/leopard conflicts. Although the title sanctuary is not in our title, we offer life time homes to any creature that enters our doors
Many animals are displaced due to legislation, leaving the animals with few options. We offer life time homes to these beautiful creatures.
Mission
To educate young and old on the importance of conservation and preservation of all native and exotic species.
Description
Home to many endangered and exotic species, located in Live Oak Florida a non profit 501(c)3. Our hours of operation vary with the seasons. We are open every Saturday from 11 am until 4 pm with tours at 11 am, 1 pm, 2:30 pm and 4 pm Spring through Summer and every Saturday from 10 until 3 pm (tours at 10, 12, 1:30 and 3pm) Fall through Winter and. All are weather permitting. Tours are guided
Donation is $10.00 per guest and children 3 and under are free.
We are not funded by any County, City, State or Federal entities and all staff is 100% volunteer staffed, thus 100% of all funding goes directly to the care of the animals.
Mystic Jungle Educational Facility, is a non profit facility incorporated in 2010. On board we have many people from various walks of life from a veterinary technician, school teachers, humanitarians, retired law officials, and veterinarians. The founders have been in the animal field since childhood so not only with the school learning, they have the school of hard knocks, called common sense in the field of animals.
We focus on the education of the general populace regarding the plight of our wildlife. We target the endangered and threatened species, but many other species call our place home. Our large cats, are DNA'd and Microchipped to further enhance their chances of being implemented in the SSP (Species Survival Program). We also take in animals that are needing new homes through no fault of their own.
We do it through public donation, sponsorship's and grants. Mystic Jungle can only continue on this life mission through these avenues.
Vera Chaples- Vice President/co-founder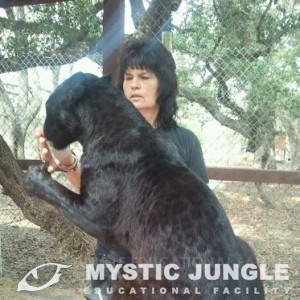 Native Floridian of six generations

Barrel racer making to the NBHA national finals 3 years in a row.

President in the Potowattomie County Humane Society, Shawnee Oklahoma 1983.

Veterinary Technician and in the veterinary medical field for over thirty seven years, starting by volunteering in Ft. Lauderdale at Three Oaks Animal Hospital for OJT at the tender age of 13 years.

Life time of working and living with all species of animals, domestic and exotic
"What man doesn't understand he fears. What he fears he destroys"

-Vera Chaples
Mark Chaples – President/Co-founder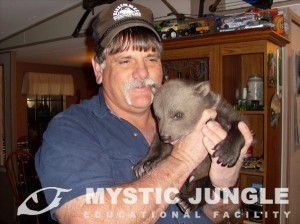 Native Floridian.
Life time of land mitigation to aide in the recovery of ecologically threatened areas.
Life time of living and working with all species of animals, domestic and exotic.
Life time of ranching and working cattle.